Welcome to Black Rock Lodge, where we are excited to invite you to enjoy a unique, unforgettable, and healthy vacation. We were committed to providing the highest level of safety and security before and during the Covid-19 pandemic, and we want to assure you that we are still committed to maintaining a clean and safe environment for you to enjoy.
Our unique location and infrastructure make Black Rock Lodge naturally resilient to the spread of infectious diseases. Each of our cabins is independent with no neighboring rooms, and our walkways and public spaces are all outdoors. Our restaurant remains open-air, with high-powered ceiling fans to keep the air circulating. Our tours are also private, allowing for limited contact with others.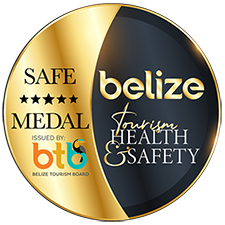 We are Gold Standard Certified – see certificate
We are proud to have earned our Gold Standard Certification as a lodge and tour operator. These rigorous standards are still in place, ensuring that all of our areas are operating with the highest safety protocols. Our Gold Standard Managers oversee the procedures and are available to discuss any questions or concerns you may have.
At the lodge, we have implemented some new systems that will continue to be in place to enhance your experience. You can now have meals delivered to your private porch, and we also have a no-touch menu in our restaurant. Our cleaning and sanitizing systems continue to meet rigorous standards to ensure the safety of our guests and staff.
We are excited to welcome you to Black Rock Lodge to enjoy all of the highlights that have always been here – hiking, kayaking, swimming in the pool or river, enjoying wildlife and the local attractions.
Before traveling to Belize, we always recommend visiting the Belize Tourism Board website for current information on restrictions and requirements for entry: Belize Travel Information. We are also available to answer any questions you may have, so please feel free to contact us directly. We look forward to welcoming you to Black Rock Lodge!