We want all of our friends and prospective guests to know that we at Black Rock Lodge have been singularly focused for six months on preparing for operating in the era of Coronavirus. We have made very intensive new systems and procedures for cleanliness, sanitizing, and social distancing that greatly enhance our naturally resilient location. We at Black Rock Lodge feel very privileged to have the setting and infrastructure that is naturally conducive to preventing the spread of Covid-19. All of our cabins are independent and have no nearby neighboring rooms. All of our walkways and public spaces are outdoors, and our restaurant is open-air with ventilation on all sides, and we utilize high-powered ceiling fans for when there is very little breeze.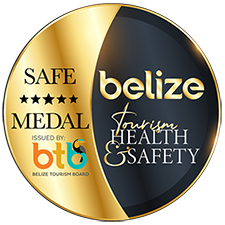 We are Gold Standard Certified – see certificate
Black Rock Lodge is Gold Standard Certified as a lodge and tour operator. These standards are very vigorous and ensure that all lodge areas are operating with the highest safety standards. All of those procedures are documented and supervised by the Government of Belize. Please find details on the Gold Standard certification here: Belize Enhanced Hotel and Restaurant Guideline (June 2020)
As part of the program, we have Gold Standard Managers who are in charge of overseeing these new protocols and meeting with all of our guests to discuss how the procedures work and address any concerns you might have. Throughout the lodge, you will find safety signage, handwashing stations, hand sanitizer, and social distancing designations to help everyone enjoy their vacation while being safe.